86 Incredible Tiny House Ideas to Share With Your Architect
These little rentals are loaded with inspiration for your project.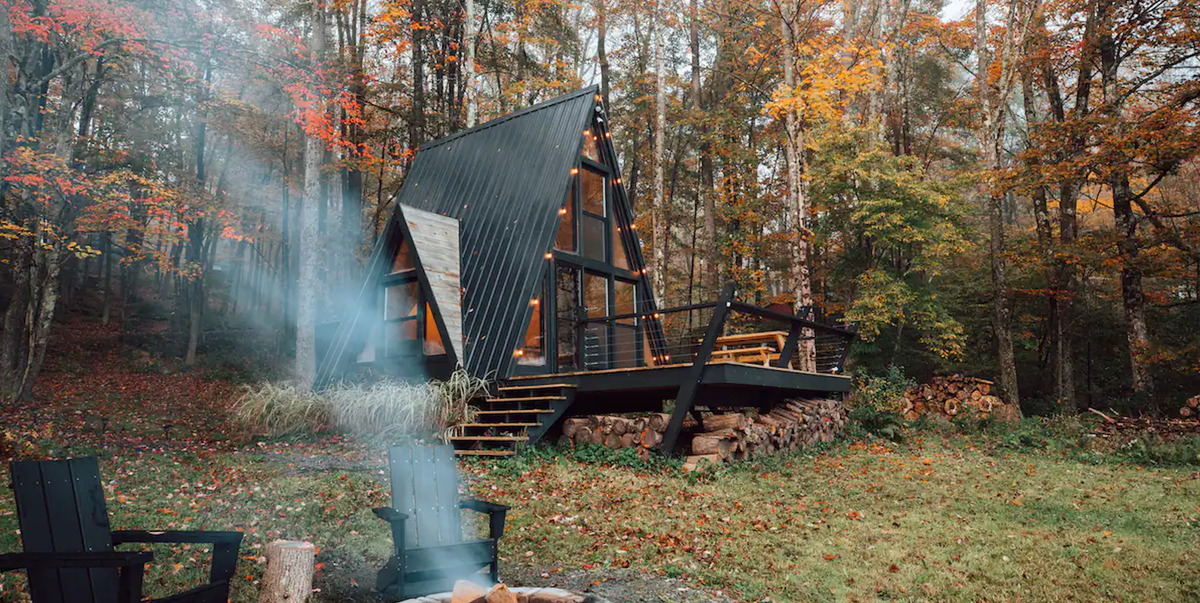 Airbnb
We totally get the obsession with tiny house designs. The compact gems are so versatile and full of potential they're practically irresistible. A tiny home is an accessible reality for many first-time home buyers, whether it's a prefab tiny house or one built from a floor plan. They make sustainable living easier because they can run on clean energy and reduce your environmental footprint. You can also take them on the road: Many tiny home aficionados hook their structures up to trailers to travel the country in total comfort. And, of course, they can serve as an extra office space, a guest house, or a fully separate rental in your own backyard. Given all that, many designers and rental hosts build in innovative small space design ideas to make their tiny houses just as well equipped and stylish as a full-size home.
Whether you're searching for tiny house designs to elevate your own backyard property or are considering downsizing, we've got all the inspiration your mood board needs, including treehouse, A-frame, English garden cottage, and ultra-modern tiny houses—even one that's in a windmill. Not sure you're ready to commit? They're all available for short-term stays; you can book a few nights in any one of these tiny house rentals to test out bite-size living. Ahead, 86 tiny house design ideas you can share with your contractor or architect, or simply scope out for what could be a life-changing future vacation.
1
Lofty Dreams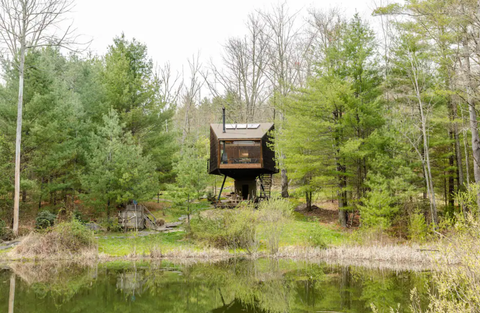 be tkBe
Nestled among the trees just outside the town of Woodstock in upstate New York, this treehouse-like tiny home is elevated to create sweeping views of the swimmable pond and surrounding forest. Its most enviable features include a sleeping loft, full walls of windows, a breakfast bar, a wood-burning fireplace, and a barrel-style hot tub.
BOOK NOW $375 per night
2
Slanted Exterior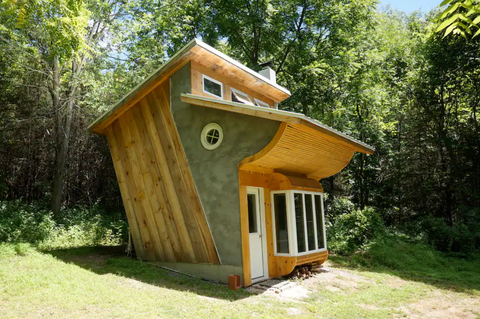 be tkBe
Ask any architect: Walls don't have to be straight. The off-kilter style of this pro-built tiny house in the Catskills adds visual interest and makes space for a lofted bedroom, built-in shelves and cabinets, and a breakfast nook with a window seat. It also illustrates how much you can do without electricity or running water.
Book Now $104 per night
3
Baby Blue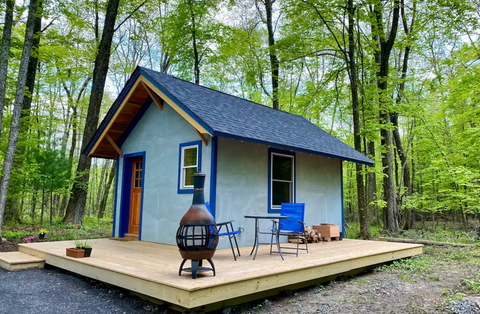 be tkBe
This New Paltz, New York, tiny home's interior design is fairly standard, but its showstopping two-tone exterior paint job makes it a standout. The platform it's built on creates a wide deck for eating and hanging out—a simple way to sneak in a few extra square feet.
Book Now $60 per night
Advertisement - Continue Reading Below
4
Whimsical Windows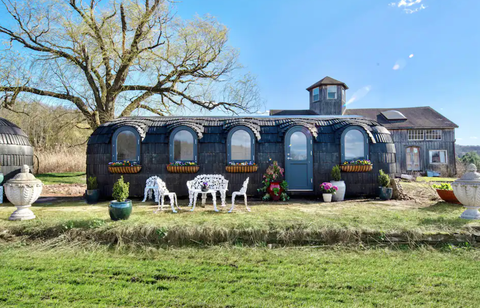 be tkBe
Inspired by the hobbits' dwellings in The Lord of the Rings trilogy, this Catskills property has all the charm of an English cottage and then some. The Shire's unique features include rounded windows and walls, a dining nook with built-in benches, ample window boxes, and a one-of-a-kind sauna.
Book Now $242 per night
5
Coastal Views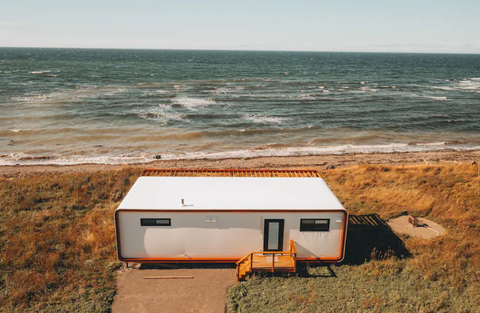 be tkBe
Set directly on the coastline of Quebec, Canada, this '70s-inspired tiny house has vast square windows along the front for assessing the surf conditions and taking in the views each morning. Don't miss the natural wood built-in storage (including the queen beds' headboards) and ceilings and clever recessed lighting throughout.
Book Now $184 per night
6
Quaint Cottage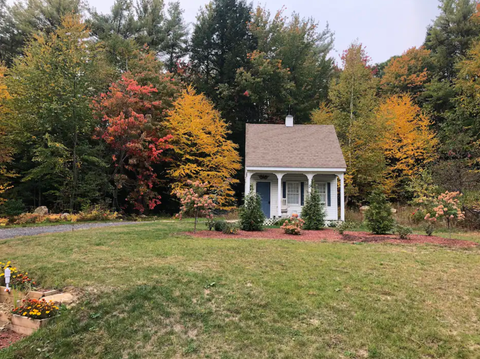 be tkBe
Tucked away in New Ipswich, New Hampshire, this no-frills cottage, named for its fairy-lights lined porch, can sleep up to three. Its latticed porch, rocking chairs, and weather vane dial up its charm.
Book Now $79 per night
Advertisement - Continue Reading Below
7
Architectural Wonder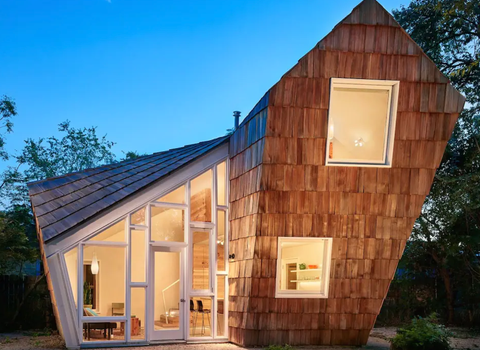 be tkBe
Designed by Austin-based architect Nicole Blair, this AIA Award–winning tiny house called the Beehive plays with angles to maximize sunlight and square footage. You'll want to bookmark the open-concept kitchen, spacious shower, and efficient staircase for your next trip to SXSW—or your own backyard project.
Book Now $308 per night
8
Best All Around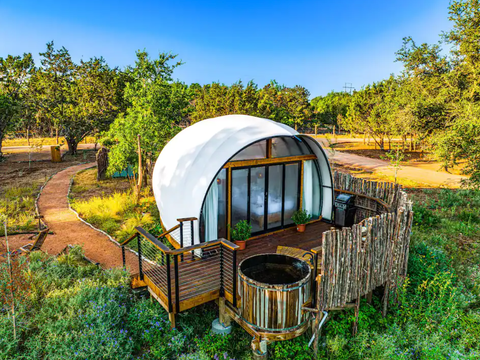 be tkBe
Soft canvas walls give this tiny house in the West Texas hill country a tent-like feel; all the comforts of home, like HVAC and plumbing, elevate its luxury level. Outside, a cedar soaking tub is for unwinding after a day of winery hopping and antiquing. The rustic privacy fencing, elevated deck, and private fire pit, and beautiful landscaping belong on your mood board too.
Book Now $659 per night
9
Desert Oasis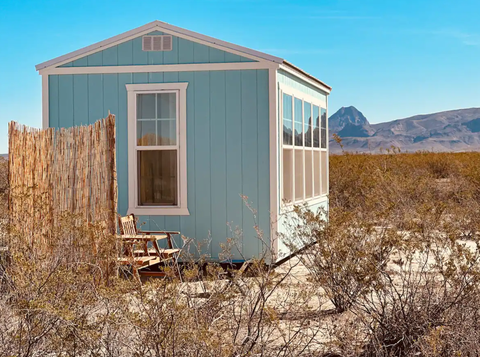 be tkBe
An ideal distance from Big Bend National Park, this light-filled tiny home in Texas is designed to be a soothing rest spot for adventurers. It's also a case study in how to put clean energy to work in your tiny house, with solar lights, a solar shower, and a composting toilet.
Book Now $71 per night
Advertisement - Continue Reading Below
10
Scenic Cabin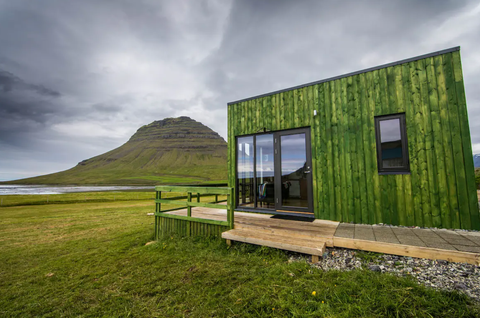 be tkBe
With sweeping views of Iceland's Kirkjufell Mountain, bay, and even the northern lights, this cabin and its deck are stained green to blend into its awe-inspiring natural surroundings.
Book Now $209 per night
11
Hillside A-Frame
be tkBe
The Malbec Cabin, nestled in the mountains of Brazil, is in-ground A-frame structure with expansive windows and a working wood-burning fireplace. If they're not enough to grab your attention (or would-be renters'), the rope swing and cozy fire pit definitely are.
Book Now $184 per night
12
Essentials Only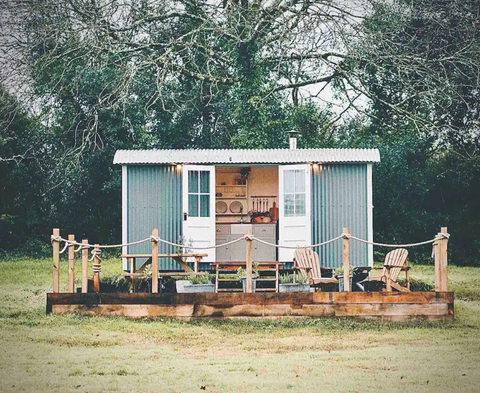 be tkBe
The Shepard's Hut on England's Cornish coast is no-nonsense in the best way possible. There's a quaint kitchen, fireplace, and Murphy bed, with double doors and farmhouse-style lighting adding to its friendly vibe. Its selling point, however, is the lakefront view and outdoor dining setup. You might want to copy their clever rope-and-post fencing and graveled terrace ideas.
Book Now $113 per night
Advertisement - Continue Reading Below
13
Bold A-Frame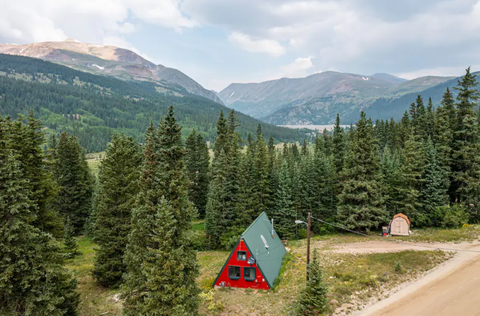 be tkBe
Just 12 miles from Breckenridge, Colorado, you can't miss this creekside A-frame, painted fire truck red to stand out among the evergreens. Inside, a wood burning fireplace wards off the mountain chill and custom built-ins offer kitchen and bathroom storage. You don't want to miss its cozy loft, either.
Book Now $155 per night
14
Festive Container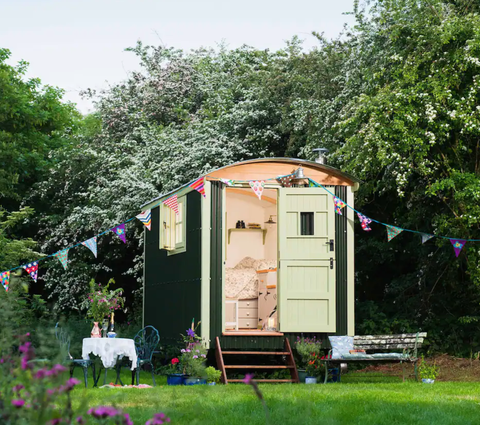 be tkBe
Your tiny house's interior isn't the only place you can express your design personality. This wagon-style spot on England's North Cornish coast has a cheerful two-tone exterior and sports party bunting year round. You'll love the brilliant under-bed storage, floral curtains, and green-painted trim inside, too.
Book Now $138 per night
15
Urban Windmill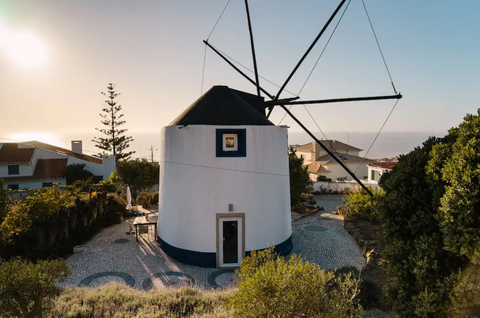 be tkBe
No structure is too small or off-limits for a tiny house, as evidenced by this windmill turned living quarters near Lisbon. The bedroom even features the original mechanisms in the ceiling. Because everything inside is rounded (even the shower and cabinets), it's full of helpful ideas for other challenging small spaces.
Book Now $127 per night
Advertisement - Continue Reading Below
16
The Greenhouse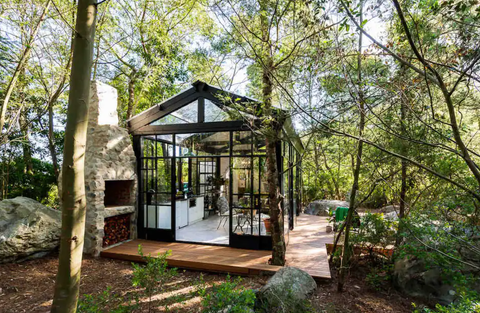 be tkBe
Those not opposed to a lack of privacy can opt for glass walls like this greenhouse-esque home's in South Africa. Not traveling soon? Head over for inspiration from its luxury tile, indoor and outdoor fireplaces, and sleek, modern deck. It shows how much life and beauty plants can bring to any tiny house too.
Book Now $163 per night
17
Looking Glass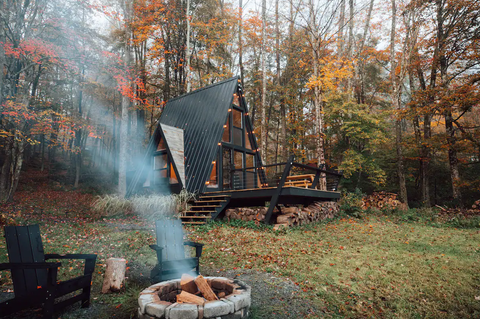 Getty Images
Tucked away in the middle of the Catskills forest, this storybook-ready A-frame home is a small but mighty fortress. The view feels twice as special thanks to a full glass front wall.
BOOK NOW $303 per night
18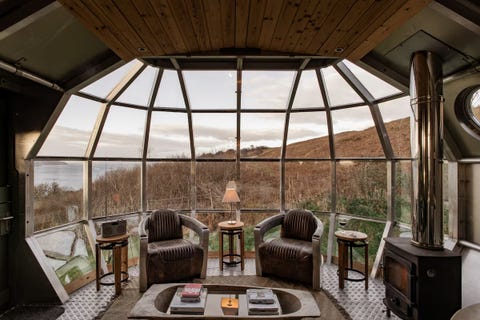 Airbnb
Designed by Roderick James, this Scottish insulated aluminum pod offers breathtaking views from dragonfly windows. The futuristic interior is warmed up by wood accents and cozy textiles.
BOOK NOW $193 per night
Advertisement - Continue Reading Below
19
French Cottage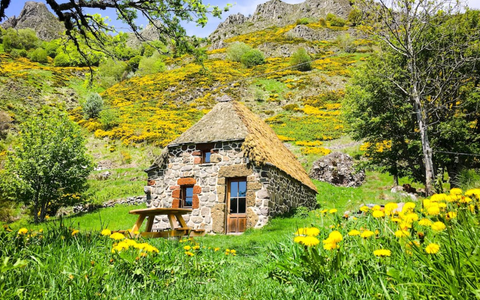 Airbnb
The stone exterior and interior details of this French cottage make it look like it came straight out of a fairytale. While the overall design of the interior isn't much, the architecture serves as major inspo if you're looking to build your own dreamy tiny home.
BOOK NOW $72 per night
20
The Family Home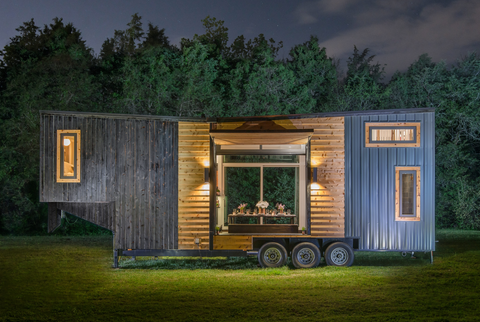 New Frontier Design
With two bedrooms (including a walk-in closet!), this tiny home is just right for a small family. The fully-equipped chef's kitchen can whip up alfresco meals for warm summer nights. Not to mention, the industrial-meets-cabin aesthetic is sleek and inviting.
BUY NOW Starting at $199k