9 Reasons Your Lawn Looks So Much Worse Than Your Neighbors'
Here's why their grass is greener.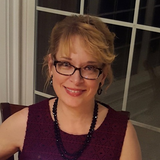 By Arricca Elin SanSone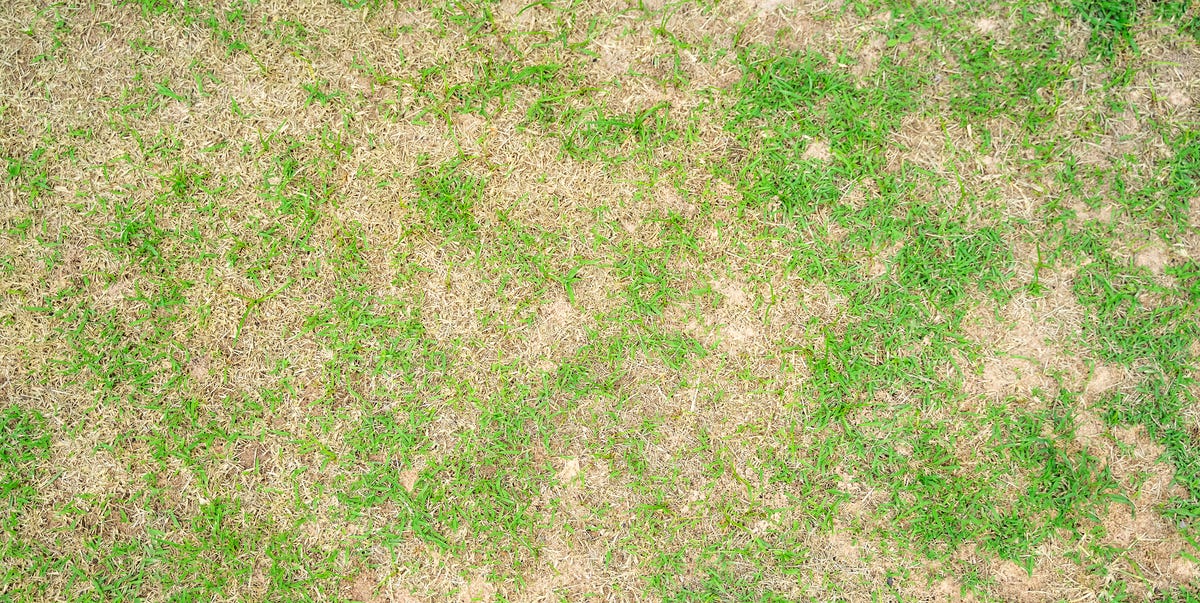 Praewpailin
//
Getty Images
You've worked hard to create tons of curb appeal for your home. Gorgeous flowering trees? Check! A pretty color on your front door? Check! Containers of beautiful annuals and beds of blooming perennials? Check again! And yet, your lawn just can't keep up with the Jones's.
Is it your imagination or does your lawn look scraggly, and so much worse than your neighbors? If you find yourself coveting your neighbors' grass, chances are, the sad side-by-side comparison is probably not all in your head. "Many different factors affect your lawn's appearance," explains Peter Landschoot, PhD, professor of turfgrass science at Penn State University College of Agricultural Sciences. "Some of these reasons may be out of your control, such as drought, but some issues you can work on to improve your lawn's aesthetics."
But before you get started, it's also important to have reasonable expectations. "Most of us aren't going to have a lawn that's completely weed-free or looks like a putting green," cautions Clint Waltz, PhD, extension turfgrass specialist at the University of Georgia's Turfgrass Research and Education Center. "You can invest lots of time and money, but perfection generally isn't attainable."
Also consider the fact that if you're not scoping out the lawn at a barbeque, but peering at it over the fence, you're seeing your lawn up close and personal, weeds and all, and just getting a flattering, far-off view of theirs.
Now that you've managed your expectations and considered your perspective, here are the most common reasons your lawn looks worse than your neighbors'—and what you can do about it. (And if all else fails, here's how to spray paint your lawn, if you'd rather give that technique a try!)
1
You've got a different type of grass.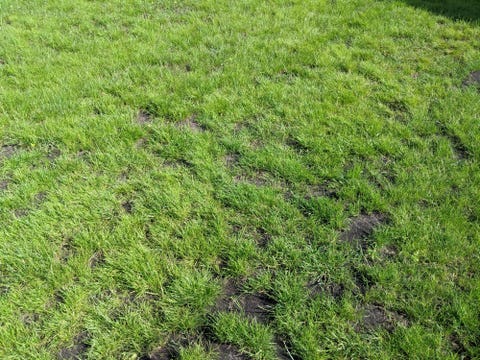 Ilia Bordiugov
//
Getty Images
If the lawn next door looks lusher and lovelier, consider that your neighbor might have an entirely different type of grass that may be better suited to the conditions in your region, says Landschoot.
What to do: There's actually not much you can do if you're dealing with an existing lawn, short of renovating the whole yard (pricey!). However, your local university coop extension service (find yours here) can help you ID the type of grass you do have, so you'll have a better idea of what kind of care to give it. But be aware that, while they can identify the species, they won't be able to figure out the exact variety—and some varieties are better adapted than others for lawns.
2
You're mowing too short.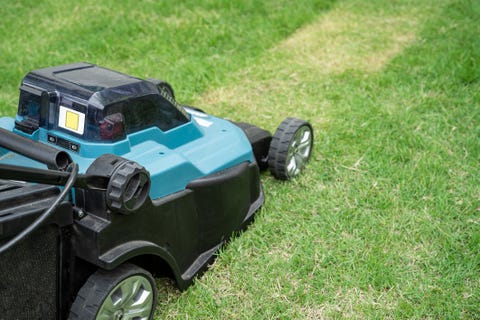 sasirin pamai
//
Getty Images
Cutting your lawn too short, also called scalping, stresses the grass. If you cut too short, you'll take off too much leaf material, exposing the stems instead of blades so that your grass looks scraggly. You'll also thin the canopy, leaving behind brown, sparse areas which provide a handy place for weed seeds to germinate, says Landschoot.
What to do: Take a cue from your lawn and mow when the grass looks like it needs it, not on a weekly schedule. For example, for cool season grasses, you may need to mow twice a week in the spring when it's growing rapidly, or just every few weeks in summer if there's a dry spell.
3
You're not mowing frequently enough.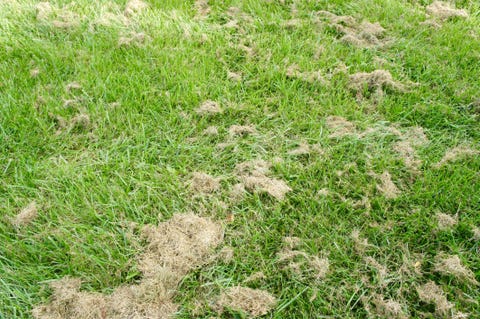 MarieTDebs
//
Getty Images
If you're leaving big clumps or piles of clippings on the lawn each time you mow, you may be waiting too long between mowings. Mowers don't cut too-tall grass cleanly, and the mowing deck tends to get clogged up when grass is too long, says Landschoot.
What to do: If you missed a mowing, raise the height of the mower deck so that you reduce the amount of clippings left behind.
Advertisement - Continue Reading Below
4
You're watching the calendar, not the temperature.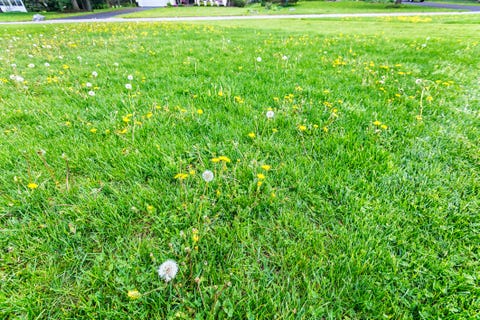 Willowpix
//
Getty Images
If you're seeing loads of weeds, even if you used a lawn care product, you may have put it down at the wrong time. For example, a pre-emergent herbicide will stop weeds before they take hold. But if you get it down too late, weeds already may have popped up, says Waltz.
What to do: Pay attention to the soil temperatures, and treat accordingly. For example, crabgrass germinates around 55 degrees no matter where you live, so get a pre-emerge down when soil temps reach that point. (Find local soil temperatures here.)
5
You're not watering efficiently.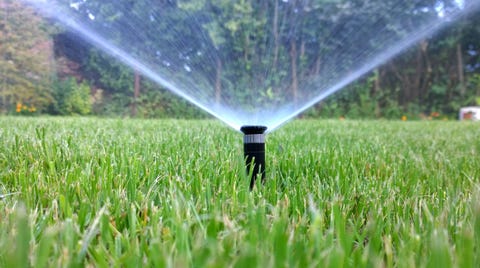 Nenov
//
Getty Images
Setting a timer for your irrigation seems convenient, but a schedule doesn't account for all the environmental factors that affect your lawn, such as heat, humidity, rain and wind, says Landschoot. And watering too frequently wastes water and money.
What to do: Turf is resilient and every lawn does not need to be watered every day; water only when your grass really needs it. For an established lawn, water if the grass turns bluish, the leaf blades wilt, or footprints remain in the turf after walking on it. The early morning hours (before 9 a.m.) are best time to water for the least amount of water loss and evaporation.
6
You're not keeping the mower blades sharp.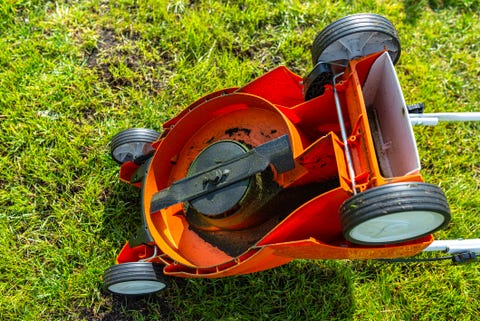 Kinek00
//
Getty Images
A mower blade that has ragged edges will tear grass instead of cleanly shearing it off, so that your mowed grass will look uneven, says Landschoot.
What to do: Hitting dirt, gravel, sticks or even just big piles of leaves can dull your blades. Get your blades sharpened every few years; most mowers have removable blades you can detach and take into a small engine shop for sharpening.
Advertisement - Continue Reading Below
7
Your grass isn't the best choice for the area.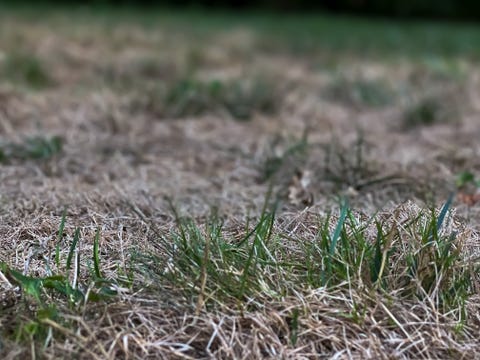 Catherine McQueen
//
Getty Images
If there's a patch of grass that never seems to thrive and needs to be replanted every season, reconsider your approach, says Waltz.
What to do: Maybe that spot is too shady for grass. Or maybe you have an area that gets a ton of traffic, such as where you step off deck onto the lawn or along the fence line where your pet likes to run. Consider replacing these areas with a hardy ground cover or something more permanent, such as paver stones.
8
You haven't aerated lately.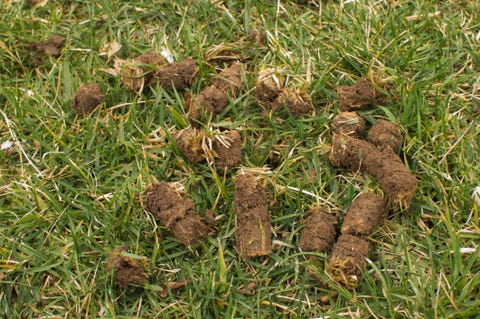 Sherry Barr Photography
//
Getty Images
Soil should contain a balance of small pores that hold water and large pores that hold oxygen. When soil becomes compacted, it limits the amount of oxygen accessible to the roots of grass, says Waltz. Aeration opens up the soil and creates large pores so that the roots can breathe, which stimulates new growth.
What to do: Not all lawns need to be aerated regularly, but every few years is ideal if you have heavy soil, lots of activity on the lawn, or vehicle traffic on your grass. Hire a lawn company to do core aeration, which pulls up plugs of soil a few inches long; DIY aerators just poke solid spikes (like the tines of a fork) into the ground, which doesn't actually introduce oxygenand can actually compress the soil.
9
Your dog has a favorite potty spot.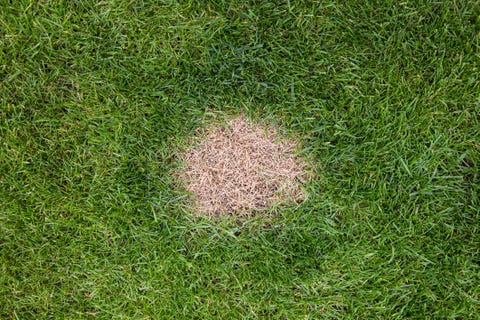 Teamjackson
//
Getty Images
Brown or yellow-ish patches are often due to pet potty breaks. Damage occurs because animal urine contains concentrated salts that dehydrate the grass (rest assured it's not your dog's diet or urine pH that's to blame). And despite what you may have heard, giving your dog home remedies or supplements won't prevent lawn spots. There's actually zero scientific data that these products work (and they could harm your pet).
What to do: The grass surface typically is burned, not dead, and often will recover, says Waltz. Reduce the chances of damage by pouring water on the area immediately after potty breaks. Or, retrain your pet to go elsewhere, in an area that's not as visible or that's mulched with rock or wood chips.

Arricca Elin SanSone has written about health and lifestyle topics for Prevention, Country Living, Woman's Day, and more. She's passionate about gardening, baking, reading, and spending time with the people and dogs she loves.