These Are the Most Popular Wallpapers in Each State, According to Experts
From cork to grasscloth—and lots of bird prints.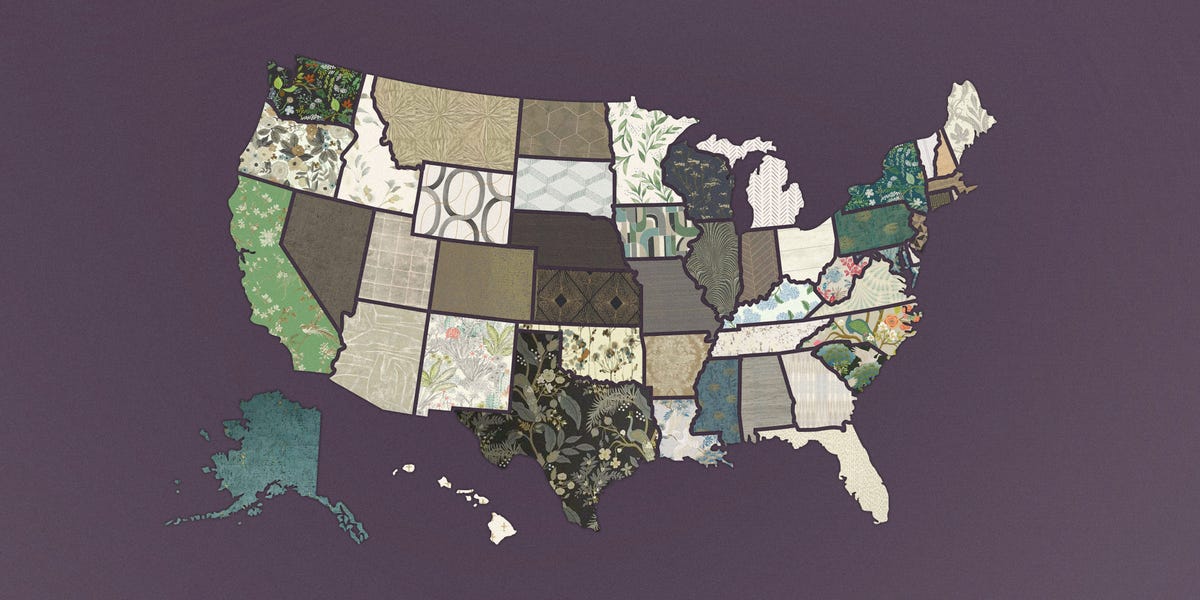 Soumi Sarkar
Whether you're Team Accent Wall Only or Team No Wall Left Uncovered, you probably have a sense that wallpaper is making a comeback across the nation, from sea to shining sea. Our social media feeds are full of traditional wallpaper and peel-and-stick versions alike—and there are some patterns that definitely seem to pop up more than others. That's why we couldn't resist 50 States of York, a playful report put together by Pennsylvania-based wallpaper manufacturer York Wallcoverings, which prints collections for the likes of Joanna Gaines, Rifle Paper Co., and more. The first-ever report of its kind, it reveals the company's top-selling wallpapers in each state, pulled from its active list of more than 5,000 patterns, textures, and designs.
We expected to find a lot of cottagecore florals, and they're there. But the most popular wallpapers actually show a lot of variety and subtlety. "What you see in this list is a variety of naturals, specialty products, handmade, peel-and-stick, and of course, classic paper and nonwoven wallpaper," says DeAnna Hain, the company's executive vice president of marketing, whose team analyzed a year's worth of sales, from June 2022 through May 2023, to create the report.
Their takeaways? Rifle Paper Company and Candice Olson are nationwide favorites, with the same top-selling patterns in different colorways winning several states, including Texas and Nevada. In others, the competition was so close that they decided to declare the second runner-up the winner for the sake of variety.
The most surprising choice comes from Kansas, where the most popular wallpaper is Harlowe, a "moody and sexy black and gold pattern" from the Antonina Vella Modern Metals collection, says Hain. The least surprising? Maine, says Hain. You'll have to scroll down to see why.
Read on to find out what's the most popular wallpaper in your state too—several of them surprised us!
Alabama
Arizona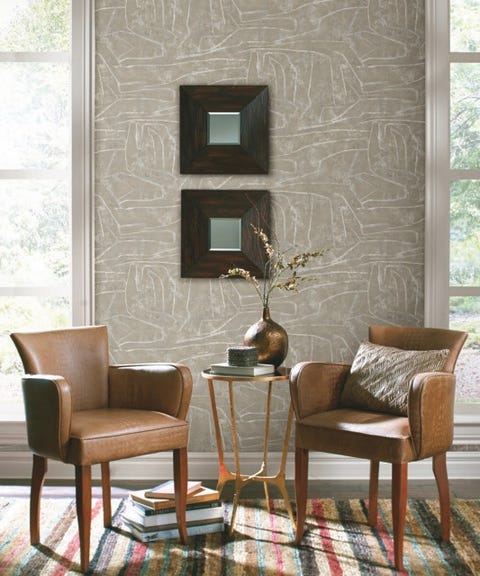 Advertisement - Continue Reading Below
California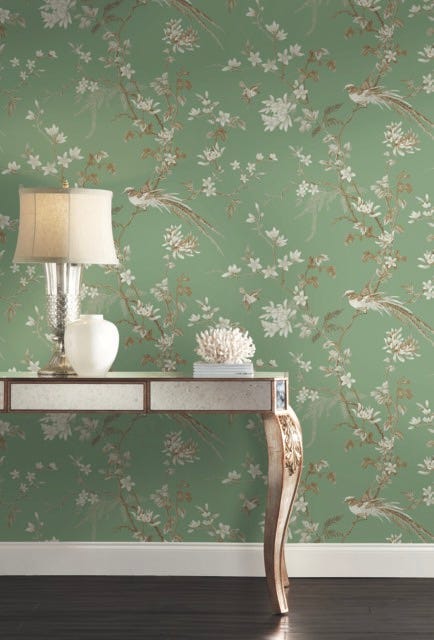 Green Bird And Blossom Chinoserie Wallpaper from the 24 Karat collection
"California was a bit more traditional than expected with Bird and Blossom Chinoiserie, a classic heritage design," says Hain.
Advertisement - Continue Reading Below
Connecticut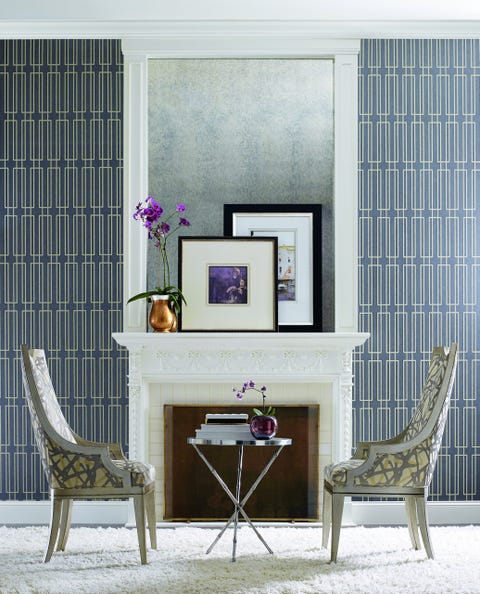 Terrace Wallpaper in Charcoal from the Candice Olson Modern Artisan collection
There's been "a rise in popularity with geometric prints and elements when it comes to wallcoverings," adds Hain.
Delaware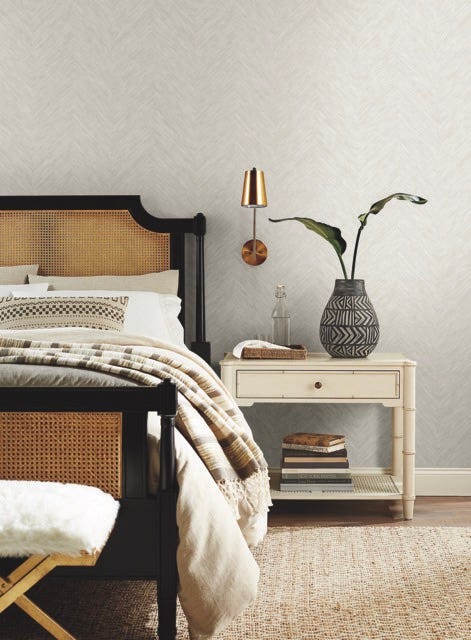 Florida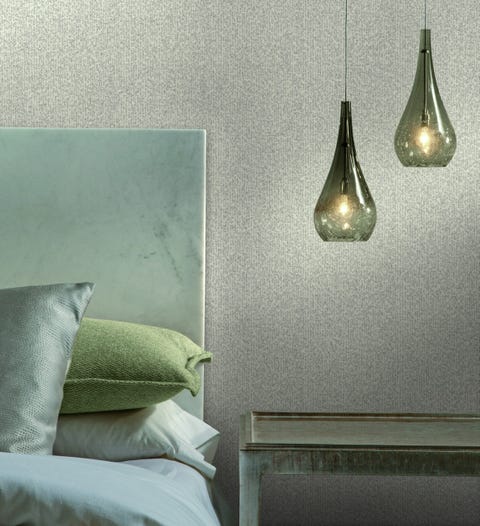 White Dazzle Wallpaper from the Candice Olson After Eight collection
Says Hain, "Florida leaned into opulent glamor in their top-ranked pattern, which features the deep texture of sand and glass glitter."
Advertisement - Continue Reading Below
Advertisement - Continue Reading Below
Indiana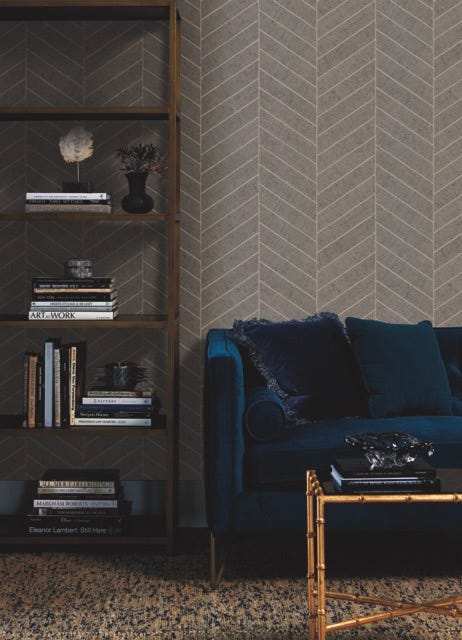 Iowa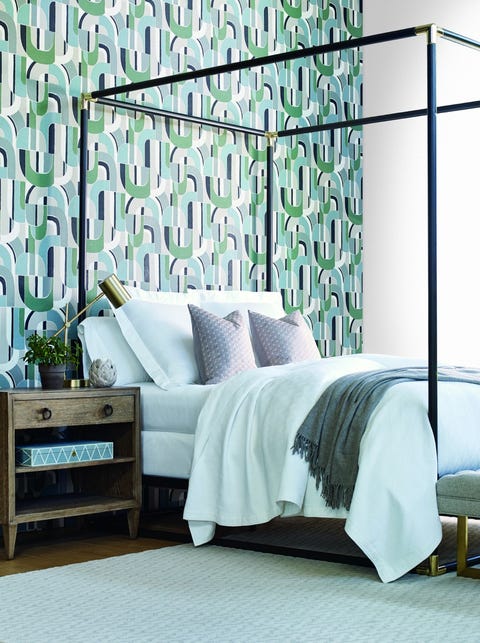 Advertisement - Continue Reading Below
Kansas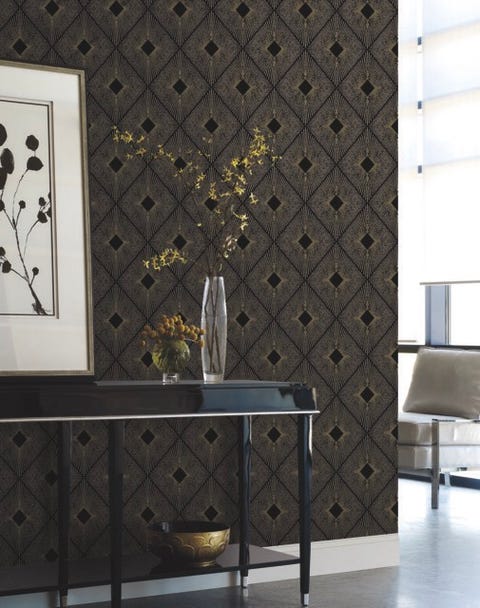 Black and gold Harlowe Wallpaper from the Antonina Vella Modern Metals Second Edition collection
Louisiana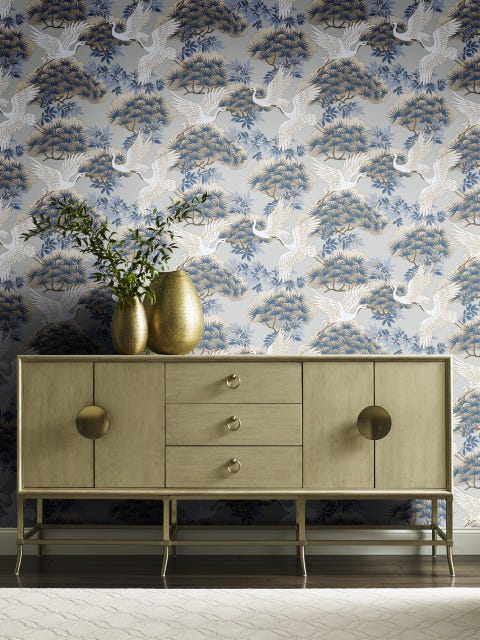 Advertisement - Continue Reading Below
Maine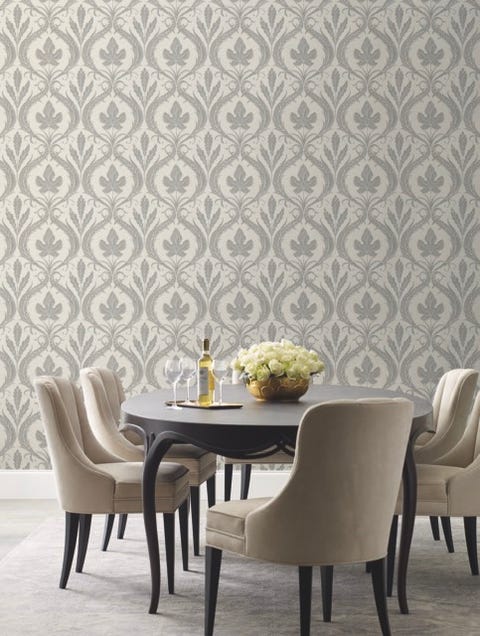 Adirondack Damask Wallpaper in Beige and White from York's Damask Resource Library
"Maine put a smile on my face when I saw Adirondack, a pattern that reflects beautifully stylized sugar maple leaves," says Hain. "The pride in their home state resonated in their design choice!"