7 Barbie Collaborations to Make Your Own Dreamhouse
The movie's marketing team is everything.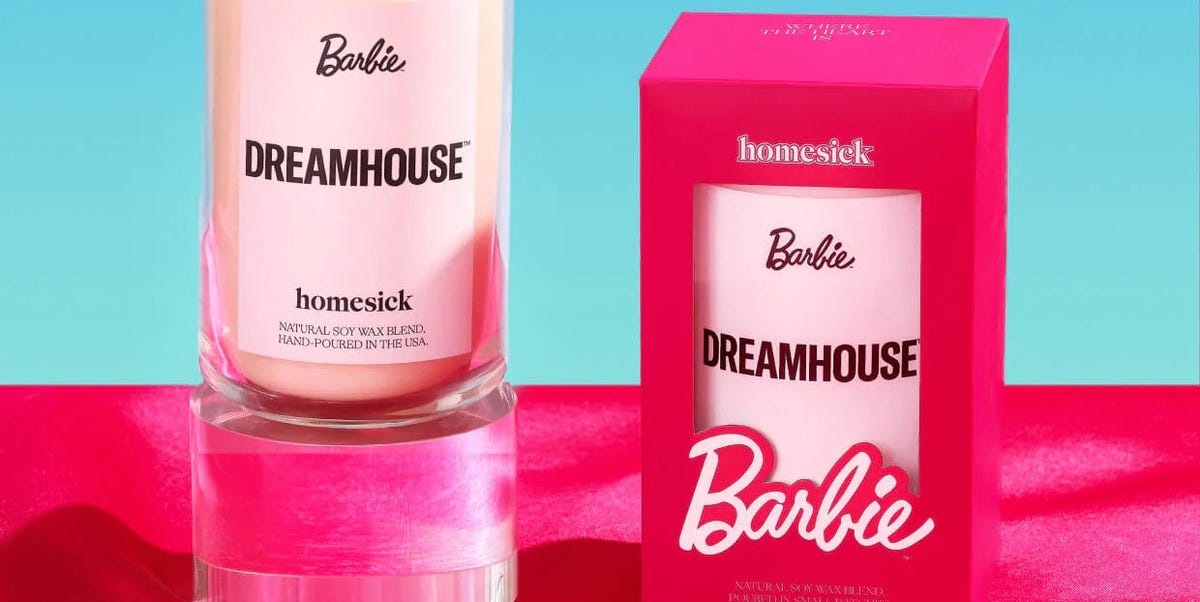 Barbie Media/Mattel
Everything about the upcoming Barbie movie says classic in the making. The girl empowerment icon is finally getting the live-action tribute she deserves. To make sure we all know about it, the marketing team for the film has been working overtime, setting up fabulous Barbie collaborations that Miss Barbara Millicent Roberts herself would approve of.
The Dreamhouse Airbnb might be fully booked already, but there are still plenty of ways you can bring Barbie's fabulously pink aesthetic to life. Barbie merch collabs are popping up at a ton of your favorite home brands, from Homesick candles to keep the place smelling dreamy to glassware ready for any outdoor entertaining.
Barbiecore as a trend has been taking over long before the movie's release, with Bougie Barbie emerging as a classier offshoot that gives less of a toy-store vibe. Even Alice Lane Home and Christina Hall have found ways to embrace the Barbie-inspired aesthetic.
The bright pink sets and idyllic Barbieland setting have been all over our feeds ever since the first trailer dropped, and now you have the chance to keep that energy at home. She's everything, and you can be too.
Barbie x Joybird
Turn the Dreamhouse into reality with this Barbie furniture line from Joybird. This line was originally dropped for the 60th anniversary of the Dreamhouse, and with the Barbie movie gracing our screens it's even more iconic.
Barbie x Funboy
Lounge poolside Barbie-style with this Barbie pool float collection from Funboy. Choose from groovy tubes, a dreamy pink chaise, a golf cart float that rivals Barbie's convertible, or even a swooping pink B that speaks for itself. Any float will make you want to head down that iconic Dreamhouse Slide. (The collection also includes matching towels for when you're ready to dry off.)
Barbie x Béis
Actor Shay Mitchell's travel line, Béis, got the Barbie treatment. Hard-shell check-ins and rollers will be unmistakable at baggage claim in a striking hot pink. Every piece of your luggage, from the weekender to the tag, can be Barbie approved with this collection.
Advertisement - Continue Reading Below
Barbie x Homesick
Let a dreamy sweet peony, bright lemon zest, and creamy sandalwood fill the air with Barbie Dreamhouse–scented candle. Homesick is known for capturing the essence of a specific city in a candle, so it's no wonder they wrapped up everything Barbieland in one delicious scent.
Barbie x Barefoot Dreams
Cozy up for the night in this Barbie blanket. These ultra-soft, celebrity-approved blankets come in a warm sea salt hue with dusty rose lettering, perfect for snuggling up to watch a Barbie movie marathon.
Barbie x Dragon Glassware
Host the Barbie blowout party of your dreams with these gorgeous pink glasses from Dragon Glassware. There are martini glasses, wine glasses, and even coasters to rest them on when you need both hands to do an elaborate dance number. Plus, you can get matching Ken diamond-shaped whiskey glasses.
Advertisement - Continue Reading Below
Barbie x Ruggable
Give your home that permanent Barbiecore energy with these Barbie rugs from Ruggable. If Dreamhouse pink doesn't quite mesh with your living room decor, there's also a classic chevron rug as an ode to the signature Barbie swimsuit. As always, they're machine washable.
Associate Shopping Editor
Janae McKenzie covers all things shopping for House Beautiful. As an associate shopping editor, she's constantly scoping out the best finds for every part of your home. Janae holds an MA in journalism from the University of Missouri and has been published in Glamour, Food Network and Vox Magazine.